We have been telling you about all the amazing reasons to visit Ambergris Caye. It is one of the most beautiful islands in Central America. The weather can't be beaten. The seemingly endless coastline is home to mangroves and lagoons. The beaches are covered with white sand and the Belize Barrier Reef offers the most spectacular scuba diving, snorkeling, and fishing in the world.
Luxury accommodations? That has not really been a part of the Ambergris Caye reality. But this story is going to change. An elegant, uniquely designed Marriott Hotel property is scheduled to open its doors in 2021. You won't want to miss out on this.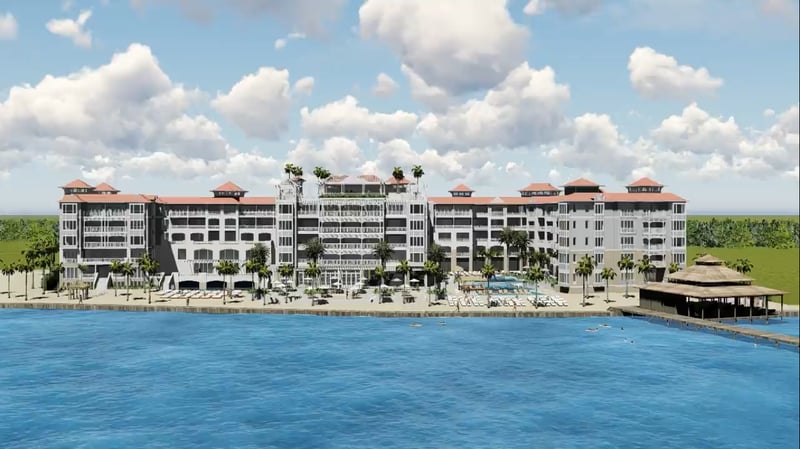 Rendering of the Upcoming Marriott Residences Ambergris Caye
An Enthusiastic Partnership
ECI Co-founders Joel Nagel and Michael Cobb presented the plans for the Marriott Hotel last year. They stated that their goal was to create an inspiring property that will nurture one's soul while remaining faithful to their mission of preserving the island's fragile ecosystems.
Rafael Amuchástegui, who has an impressive list of outstanding accomplishments, joined the team as lead architect. The team believes that this cooperation will make sure that Ambergris Caye becomes a destination for tourists from all over the world.
Faithful to the Character of Ambergris Caye
Ambergris Caye has a long history, going all the way back to the Maya. Amuchástegui intends to capture a bit of the island's history, taking guests back to the days of the British colonial period. The design reflects his vision of what a hotel would have looked like at that time, but with a modern twist.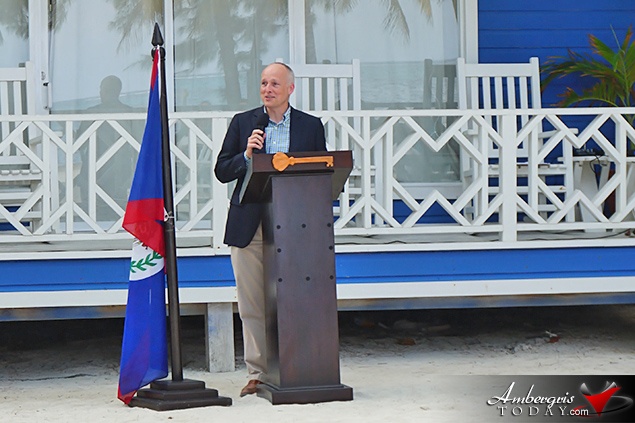 CEO Mike Cobb during the official announcement of the Marriott Residences - Courtesy of AmbergrisToday.com
The Marriott will feel more like a beach resort than an urban hotel. Gone will be the typical boxy design as it is replaced by plenty of courtyards and green space. Another great plus is that all of the rooms will face the water.
If you have ever been to Ambergris Caye, you know that it is a pretty relaxed and quaint locale. In San Pedro, for instance, only cab drivers and a very small number of residents use cars. Everyone else travels around in golf carts. The hotel design will blend in perfectly with the island's character.
Amuchástegui Is Just Right for the Project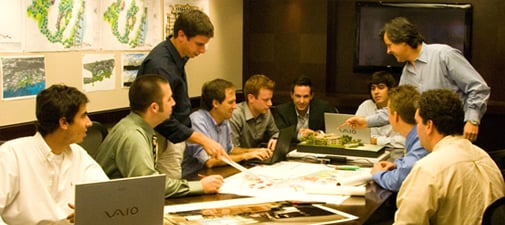 Rafael Amuchastegui (top right) leading part of his team at RAD Architecture
Rafael Amuchástegui is the perfect architect for this project. He was born in Argentina and attended the National University of Cordoba where he studied architecture. He then traveled to the United States and obtained his MBA in architecture there. After graduation, he received an invitation to join a competition in which his team designed a children's museum in Midland, Texas and won. Amuchástegui continued to advance in his career, working on many well-known architectural projects such as Atlantis Paradise Island and the Table Bay Hotel in Cape Town. Ultimately, he opened RAD Architecture, setting up offices in Miami and Cordoba.
Overcoming a Few Challenges
Joel Nagel, Michael Cobb, and Rafael Amuchástegui knew that building the hotel could be a bit challenging. The humid weather and salty air make typical building materials subject to deterioration. The team will therefore be using steel and other lighter materials to withstand climate conditions and storms. In addition, the use of these construction materials will overcome the problem of there being insufficient manpower on the island for such a large project.
In addition to ensuring that the hotel is optimally built in accordance with conditions on the island, ECI has been doing everything it can to make sure that natural attractions such as the reef system remain protected. It has been actively involved in the sustainable development of the island for more than 20 years and is pleased to be working with a global company such as Marriott, which is known for its environmental commitment.
We hope you found this article interesting. If you'd like to receive more great stories, sign up for our Newsletter, and you'll be emailed once per month with informative articles written by our team to keep you informed about all things Belize.
When planning your stay in Belize, we can help you book exciting excursions such as snorkeling at Shark Ray Alley, Cave Tubing on the mainland, or flying over the Blue Hole.

Our knowledgeable team will assist you with any tour you would like to take while visiting Belize, so that you can just relax and enjoy the adventure. CONTACT US TODAY.
ECI Development delivers affordable luxury residence and resort communities in Central America, providing our clients with various premier lifestyle options from the Caribbean to the Pacific. ECI delivers inspired residences for adventurous souls.
Coupled with over 20 years of inherent corporate social responsibility in the communities where we work, ECI Development is building a sustainable business that is going to be around for the next 100+ years.