The friendly attitude for which Ambergris Caye is famous is reflected in the happy, neighborly community at Grand Baymen. Whether it is enjoying a fitness routine together at the on-site San Pedro Fitness Club, or simply passing the many familiar faces on a golf cart ride through town, residents can often be seen exchanging peaceful greetings around the island.
The community at Grand Baymen is made up of a diverse group. From permanent residents, including retirees and working professionals, to long term renters like students and SCUBA divers on extended tours of the world class diving in Belize, to weekly and weekend renters on vacation, all residents can enjoy safety and security while living in Belize with modern North American building standards in their homes. Locking windows and doors and thick concrete walls give peace of mind when you lie down at night. However, some of you who have not visited may be wondering: How safe is Belize?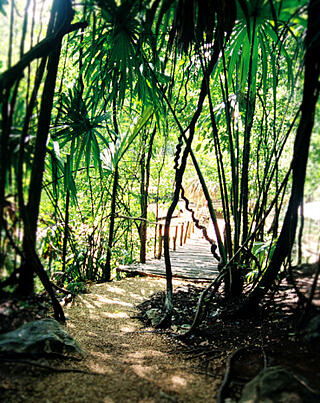 Though there have been recent reports of crime spikes in Belize stemming from a small number of high profile occurrences, please note that reports of a travel advisory allegedly issued by the United States were indeed false. The U.S. Embassy has directly stated, "The Department of State and the US Embassy Belmopan have not issued a travel advisory in response to the reported death of Anne Swaney."
Belize is generally a very safe place. But even though Belize may not have the best crime rates, at Grand Baymen and all of ECI Development's properties, we prioritize the safety of our residents with professional security services who keep watch over the entire grounds from dusk until dawn every single night. It should also be noted that Ambergris Caye bears much different social and economic status than inland Belize.
Over the past 4 years the only crime that has been reported in our community was one petty theft, and it was quickly addressed. With incidents such as unspeakable public shootings able to spring up at any time or place in the U.S., Belize hardly compares as a threatening atmosphere.
Tourists and expats make up a significant portion of the population of the island, so the economy is integrated to suit their needs, and highly dependent upon service industry and tourism revenues. The Government of Belize knows this very well, and will likely make examples out of the criminals involved in recent events.
BTB, or Belize Tourism Board, also says that they, "Will continue to work with the Belize Police Department in our tourism capacity to assist in their investigation. Moving forward, we will work with the Belize Police Department and advocate for an increased police presence to ensure the safety and security of everyone in Belize.
Crime on the island is much better controlled by San Pedro Police than in other parts of the country, where it typically occurs in isolated pockets and stays between Belizeans, and overwhelmingly so than in other parts of Central America. Children run about in the park here, and bicycle the streets freely. Family-friendly attractions abound, and offer unique, exciting experiences for every age.
In fact, just this moth, Belize was voted Airbnb's most wished place to visit. Why not make this year the year you visit Ambergris Caye? For info on vacationing at Grand Baymen, click here.