Central and South America are becoming more popular destinations when it comes to travelers choosing their next vacation haven. An increasing number of people are literally flocking to Belize, Costa Rica, Panama and Ecuador for their next vacation.



What's more is that Central America is increasingly becoming a leader in Travel Guides since it offers an amazing number of attractions, natural beauty, lower costs, and less crowded beaches. Adding to this list is easy accessibility, with more nonstop flights being offered to this part of the region every year.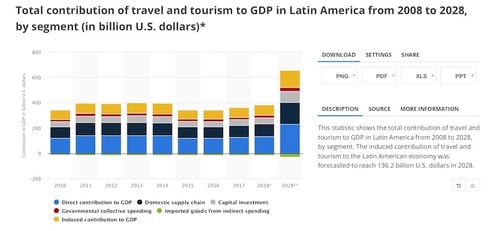 Here is a look at just some of the attractions these countries offer:
Belize

Known for its warm and inviting people and culture, with English as its official language, destination travelers from all over the world come here to explore the spectacular Belize Barrier Reef, Great Blue Hole, underwater cave tubing, Jaguar Sanctuary, and Chocolate Waterfall adventures… to name just a few.

And with the annual seafood celebrations known as "Lobsterfest", you'll want to dive right into Belize, fork in hand.
Costa Rica

You literally can't turn around without bumping into something beautiful in Costa Rica. The beaches alone are enough to spark travellers packing.

It is also known as the happiest country on Earth with its national slogan "Pure Vida", which translates into "Pure Life".

With zip-lining tours, whitewater rafting, kayaking, scuba diving, and cliff diving, water lovers never want to return home. And to all you coffee lovers out there, you'll fall in love with the superb flavor of the Costa Rican coffee, thanks to the rich, volcanic soil. Ahhh…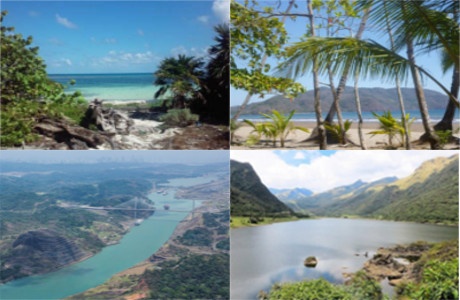 Panama

Panama is rich in culture, history, tradition, and lush landscapes. If you've never seen ships traversing through the Panama Canal, add this to your bucket list.

Go white-water rafting down the Mamoni River on a full-day adventure tour. Visit the peaceful Bahai Temple and take in all the glorious surroundings. Explore Casco Viejo and marvel at the historical architecture and really cool beauty.
Ecuador

Home to the world-renowned Galapagos Islands, Ecuador offers spectacular scenery, an almost perfect climate in many areas (no need for heat or air conditioning), and year-round adventures including horse-back riding in the mountains. You'll also love the friendly people, delicious local cuisine, and countless cultural events.

Be sure to take lots of pictures, your empty walls at home will thank you.

If you would like to plan your next trip to Belize, be sure to stay at one of ECI Development's communities. You can read more about ECI here.
Click here for Grand Baymen Belize reservations.
ECI Development delivers affordable luxury residence and resort communities in Central America, providing our clients with various premier lifestyle options from the Caribbean to the Pacific. ECI delivers inspired residences for adventurous souls.
Coupled with over 20 years of inherent corporate social responsibility in the communities where we work, ECI Development is building a sustainable business that is going to be around for the next 100+ years.