The final days of Exotic Caye Beach Resort are here. Last Friday, the resort closed its doors in preparation of what's to come.
It is with mixed emotions that I write this note. I am excited for the future, but I have so many fond memories of Exotic Caye Beach Resort (ECBR). It feels like I was destined to be a part of ECBR and ECI Development in some way.
We originally arrived in San Pedro, Ambergris Caye on December 1, 2009. My two daughters were 13 and 9 at the time and we had moved here sight unseen.
The very first Saturday we were here, we walked into town to see the Lighted Boat Parade and we passed by a quaint little resort with a beach bar called "Crazy Canucks." Being Canadian, of course we were drawn to it just because of the name. We only stopped briefly, but found out that they did a "Sunday Funday" with a live band and horseshoe tournament from 3:00 – 7:00 pm, so we decided to go back there the next day. Other folks brought their kids as well, so my girls had a good time playing with new friends.
That was when it all began. The live band was a Jam band which meant if you were a musician or vocalist you could "show your stuff" with the house band. The keyboard player was a fellow Canadian and played with the band each year for the four months he visited San Pedro. There was a Platinum album award winner (1980's band Berlin) playing the drums (Dan) and his Belizean young protege (Derrick) was on bass. Many of the musicians who jammed with the band played guitar so players constantly changed.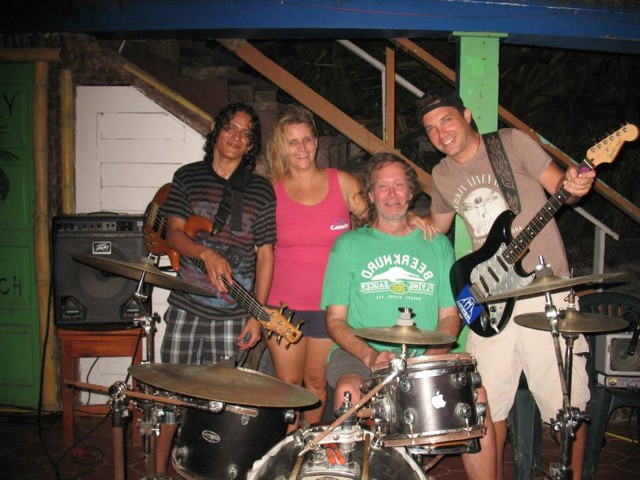 Shirlee and the Band
The third week we went, I finally got up the courage to ask to sing. I did "Dreams" by Fleetwood Mac, and it quickly became a crowd favourite, so each week I got to sing it. Over the next 3 years I sang pretty much every week – with another favourite being "Hit Me With Your Best Shot" by Pat Benatar, and a few others.
Needless to say I met a lot of people. The bar owners at the time were Fritz and Angie and we became great friends.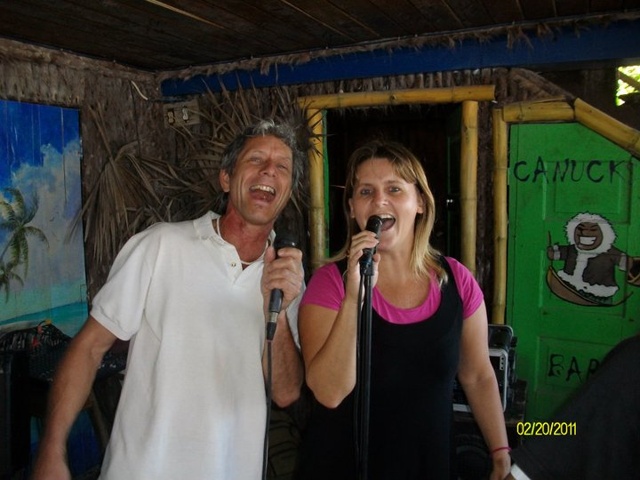 Gary and Shirlee
Step back to my mention of destiny. One Sunday Funday, I met the Managers of ECBR (a couple) and realized they were my neighbours! In November 2013, after having been friends with Paul and Kelly for quite some time, Kelly (knowing I had an administrative background) asked if I would help them with a conference. That was my first introduction to the principals and owners of ECI Development, Joel Nagel and Michael Cobb, who purchased ECBR in 1998. Due to their undeniable vision for community development and corporate social work, I really came to respect these two hardworking gentlemen.
By this time, Canucks—as it's commonly called—was under new ownership. Rob and Krista still own it today. I was honored to be a part of their "sponsor a stool campaign" and painted 50 of the bar stools with logos chosen by the customers. I also painted the logo on their t-shirt display case and the map of Canada on their security panels.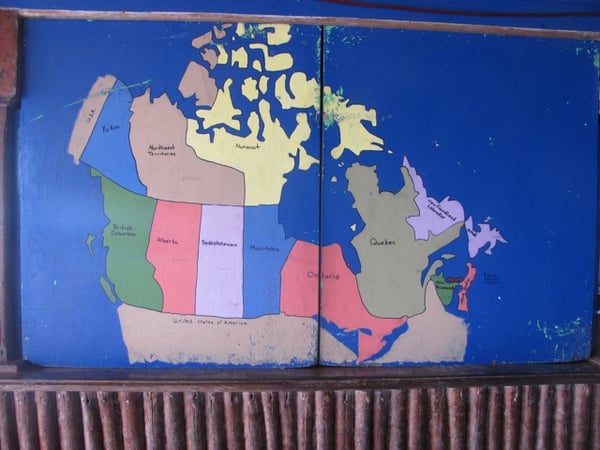 Hand-painted Map of Canada

T-shirt display - New Logo

Their addition of Friday night "Trivi-oke" (trivia followed by karaoke), Hermit Crab Races (Tuesday) and "Paint N Splash" (Thursday afternoon) has increased the popularity of the little beach bar. They have always maintained a Reggae night on Monday as well.
Fast forward to April 2018. ECI Development announces official plans to dismantle the aging Exotic Caye Beach Resort and replace it with the Belize Marriott® Residences Ambergris Caye Resort. I volunteered to help at the revealing ceremony and was privileged to escort Marriott's Vice President for Latin America and the Caribbean to the podium to make the big announcement.
Shortly after that, I began writing blog posts for Grand Baymen (ECBR's sister resort) and now, I am proud to be a member of the ECI marketing team.
As mid-May 2019 approaches, so does the dismantling of Exotic Caye Beach Resort. Although the cabanas are rustic and old, they are full of 70-year-old+, authentic mahogany floorboards, doors, door frames, and beams. These beautiful mahogany pieces will be preserved and featured in the upcoming Belize Marriott, combining the old with the new. The other usable items will be donated to the Living Word Church for distribution to community members.
Shortly after the dismantling of ECBR starts, so too the construction of the pier will begin. Crazy Canucks will remain open until the new location on the shore end of the pier is completed.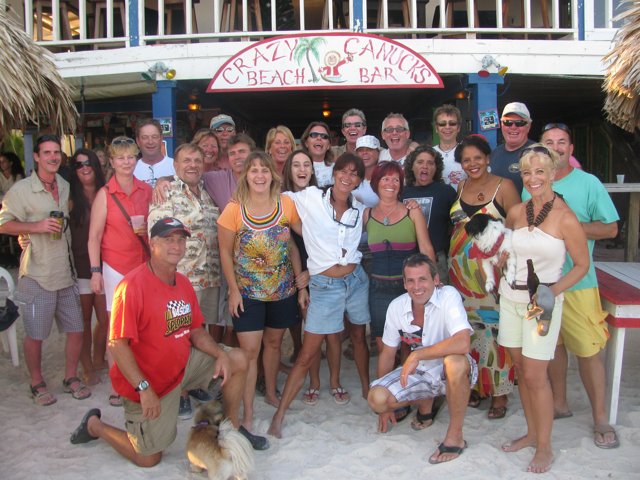 Canucks group (All Canadians) - Old logo in the background

It will then be time to also say farewell to the current Crazy Canucks building. It will be a bittersweet time and I'm sure there will be tears shed.
So long, ECBR; it has been fun!
We hope you found this article interesting. If you'd like to receive more great stories, sign up for our Newsletter, and you'll be emailed once per month with informative articles written by our team to keep you informed about all things Belize.
When planning your stay in Belize, we can help you book exciting excursions such as snorkeling at Shark Ray Alley, Cave Tubing on the mainland, or flying over the Blue Hole.

Our knowledgeable team will assist you with any tour you would like to take while visiting Belize, so that you can just relax and enjoy the adventure. CONTACT US TODAY.
ECI Development delivers affordable luxury residence and resort communities in Central America, providing our clients with various premier lifestyle options from the Caribbean to the Pacific. ECI delivers inspired residences for adventurous souls.
Coupled with over 20 years of inherent corporate social responsibility in the communities where we work, ECI Development is building a sustainable business that is going to be around for the next 100+ years.