A few months ago, I made a solo trip to Ambergris Caye for work, but made sure to carve out time for some adventure as well. While I have been to Ambergris Caye a few times before, I had never had a chance to check out the popular "Secret Beach," which is located a little ways northwest of Ambergris Caye. I'm aware that the words popular and secret don't seem to go together, but the Secret Beach seems to be a "popular secret" these days.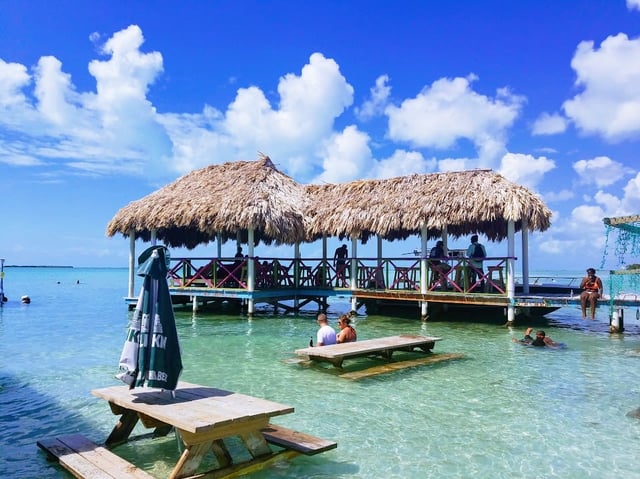 Enjoying under the Palapas at Secret Beach
One of my Belizean friends Melisa and her husband Alex own a restaurant called "The Secret Paradise Beach Bar" on Secret Beach and she invited me to join her on her next trip there.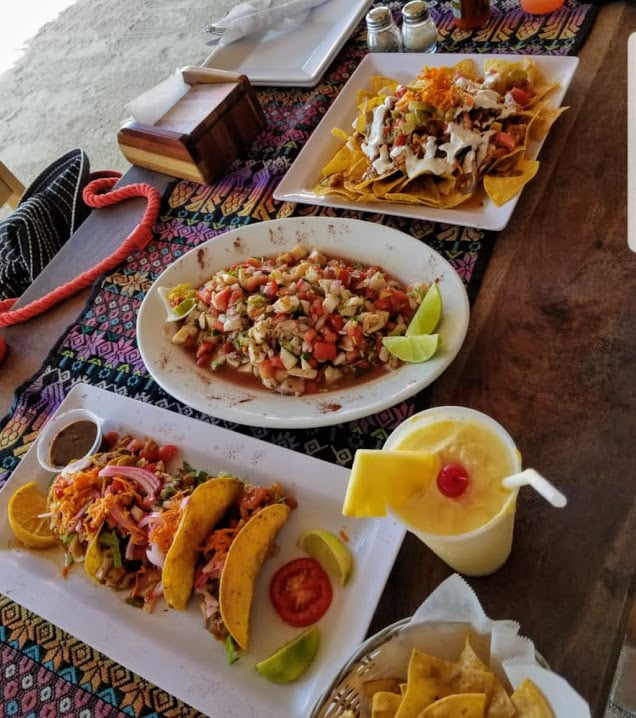 Secret Paradise Beach Bar Cuisine
I was super excited when Melisa stopped by the Grand Baymen Resort in her golf cart to pick me up. I was already dressed in my beach attire, so I slathered on some sunscreen, a straw hat and sunglasses and hopped in her golf cart. From there we were on our way to experience a beautiful fun-filled Sunday afternoon at the beach!
A not-so-hidden gem in Ambergris Caye
Secret Beach is located approximately 7.5 miles from the heart of San Pedro Town, and the best way to get there from San Pedro is via golf cart. The little journey there is very pleasant and scenic with the Belize wilderness of mangrove swamps along the road. Along the path there, we saw other eager visitors in their golf carts as they too made their way to the secluded destination.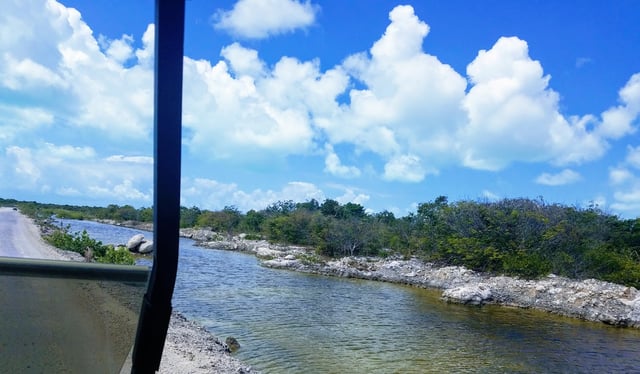 Mangrove Swamps along road to Secret Beach
When we arrived, the first thing I noticed was how lively and festive the area is, but also relaxing at the same time. I saw both locals and travelers alike sitting at outdoor tables in various restaurants along the beach eating lunch and sipping on tropical drinks, and others lounging on the beach chairs soaking up the glorious sun and atmosphere.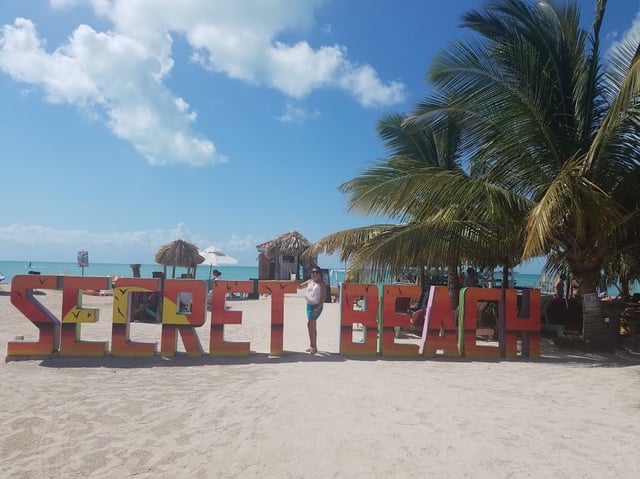 My Mandatory Secret Beach Picture
Melisa parked her golf cart and the two of us flip-flopped our way into her beachfront restaurant. We sat down at one of their tables under the covered patio and ordered a variety of fantastic Belizean dishes from their menu--dishes like fresh ceviche, grilled fish tacos, pollo con vegetales, and of course dos Piña Coladas! Or maybe more than two...I lost count.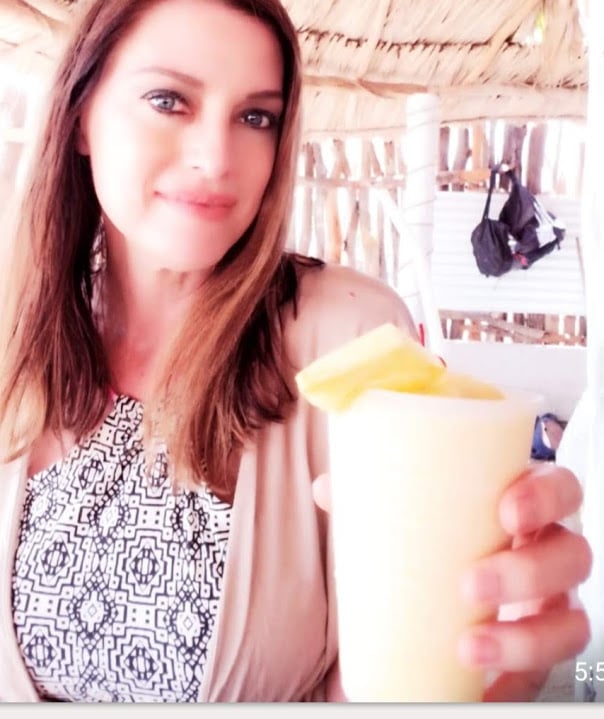 Pina Colada
Everything was so fresh and delicious; it was hard to stop eating even though I felt totally full. After lunch, I walked out into the crystal clear turquoise water and I took some pictures. There is no seaweed or Sargasso (sea grass), just beautiful clear water and tiny fishes swimming around.
There's always something to see in Secret Beach
From the shores of the Secret Beach you can see Blackadore Caye, which is Leonardo DiCaprio's private island where he is building the Blackadore Resort. I can see why he would buy an island in that area of Belize, it is truly stunning.
We then walked up the beach a little ways and Melisa showed me the other hotspots in the area. She also pointed out where "water massages" are given on massage tables right in the water! Nice. I made a mental note to definitely partake in a water massage next time I'm there.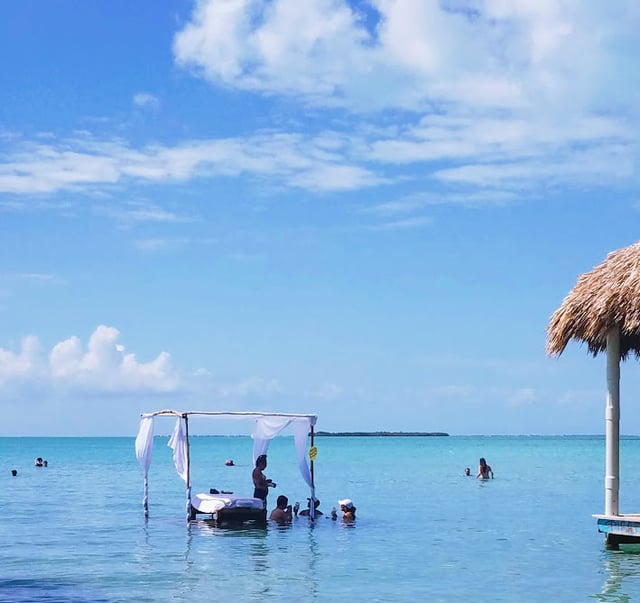 Water massages at Secret Beach
After a while, we hopped back in her golf cart and headed back to San Pedro. What an amazing experience Secret Beach is. I highly recommend this adventure to anyone traveling to Ambergris Caye, Belize. I also recommend you go there with an appetite!
Thinking about planning a vacay to Belize? Be sure to check out one of these festivals while you're there!
We hope you found this article interesting. If you'd like to receive more great stories, sign up for our Newsletter, and you'll be emailed once per month with informative articles written by our team to keep you informed about all things Belize.
When planning your stay in Belize, we can help you book exciting excursions such as snorkeling at Shark Ray Alley, Cave Tubing on the mainland, or flying over the Blue Hole.

Our knowledgeable team will assist you with any tour you would like to take while visiting Belize, so that you can just relax and enjoy the adventure. CONTACT US TODAY.
ECI Development delivers affordable luxury residence and resort communities in Central America, providing our clients with various premier lifestyle options from the Caribbean to the Pacific. ECI delivers inspired residences for adventurous souls.
Coupled with over 20 years of inherent corporate social responsibility in the communities where we work, ECI Development is building a sustainable business that is going to be around for the next 100+ years.