A Must See Chocolate Boutique
The Maya and those before them used cacao beans as money, and for centuries, only the wealthy could afford to drink chocolate.
Today, the uber-rich are said to burn money, in those ancient cultures, royalty drank theirs. It was Quetzalcoatl, according to the Mayans, who gifted humanity with the cacao tree. The drink they made, from the fermented beans of the tree, was bitter, thick, and foamy. They thought it medicinal and it was supposed to boost energy and enhance the sex drive. Maybe the foam made it more drinkable. A similar drink is still made today by Mayans in the Toledo District of southern Belize.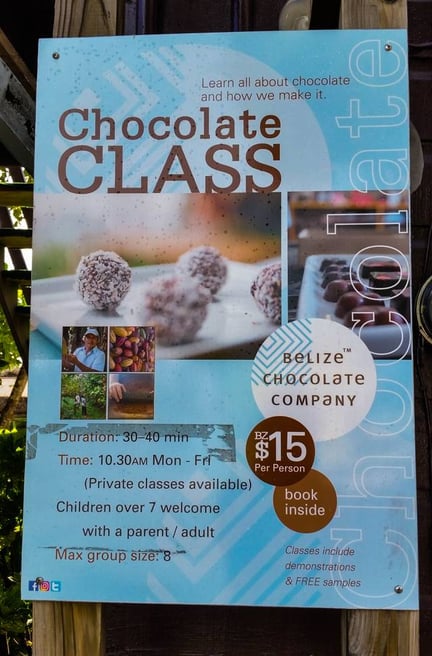 Chocolate Class Sign
You can thank the Spanish for adding more vanilla and sugar and ditching the chilies and other spices from cacao-based drinks. However, if you would like to try a chili flavored chocolate drink, visit the Belize Chocolate Company in San Pedro. They make and serve many other kinds of beverages and confections. In the shop, we checked out the various products from chocolate vinegar to chocolate tea. The chocolate brownies are fantastic. Go early; they sell out fast.
If you are a chocolate aficionado, be sure to sign up for their chocolate making class, held at 10:30 am, Monday through Friday. One of the owners, Chris Beaumont, teaches the class. He and partner Jo Sayer arrived in Belize in 1998 and found no chocolates. They studied chocolate making, and in 2012, they opened the Belize Chocolate Company on Barrier Reef Drive (aka Front Street) in San Pedro, Ambergris Caye.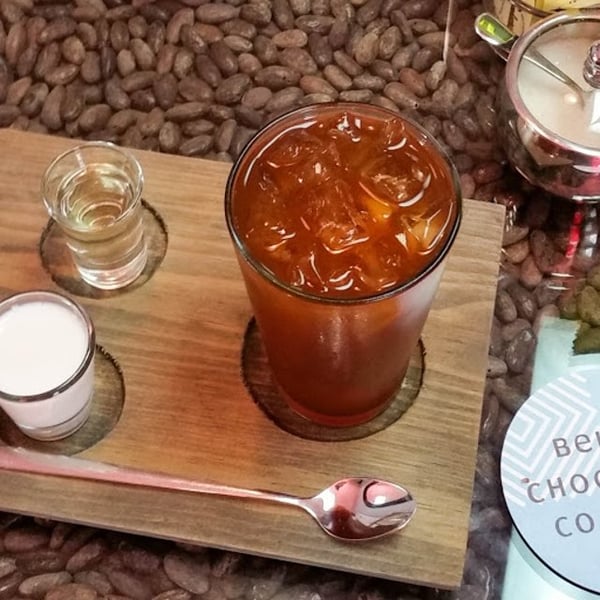 Chocolate tea
The class, held on the deck overlooking the beach, starts with a cacao pod, which Chris slices open with his machete. Each of us received a glass of water, a small white dish, and a tiny spoon for our tastings. The water is to cleanse the palate between samples. A short video of farms in the Maya Mountains of southern Belize introduces the origin and purchase of the cacao beans. These beans are certified organic and direct trade. Chris visits annually at harvest time to buy his supplies.
We tasted samples from each stage of chocolate processing. The taste of crushed seed had the texture of sand with only the slightest hint of chocolate. Not pleasant but it put the rest of the tastes in perspective as the chocolate flavor was developed. Sugar and powdered milk mixed with the chocolate changes its flavor. Chris sources his sugar from cane farmers in the north of the country. Chocolate Company chocolate is a thoroughly Belizean product.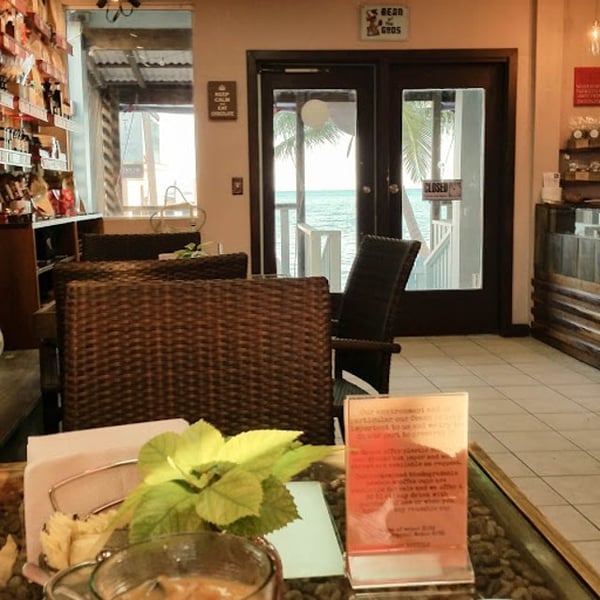 Cool chocolate drink with beautiful view
The experience of grinding some beans in a matate (a trough-shaped grinding stone) with a mano (a grinding rock like a fat rolling pin without handles) made us appreciate the human labor required before machines were invented. We each had a go at it. No wonder chocolate was expensive.
Spanish conquistador Hernán Cortés and his army, with considerable help from smallpox, eventually defeated the Maya. The Spanish recorded the recipe in detail from tree to drink. On a return trip to Spain, Cortés introduced chocolate to the Spanish court, and for 100 years, the court kept this a secret from the rest of Europe.
In 1643, Spanish Princess Maria Theresa gave King Louis XIV of France, the Sun King, a gift of chocolate and the secret was out. A chocolate craze swept Paris and spread from there.
At the end of the class, we compared the taste of a light, a medium, and dark chocolate. By law, a product must contain at least 10% chocolate or cocoa butter in it to be called chocolate. It is the higher cocoa butter content that allows the creation of white chocolate.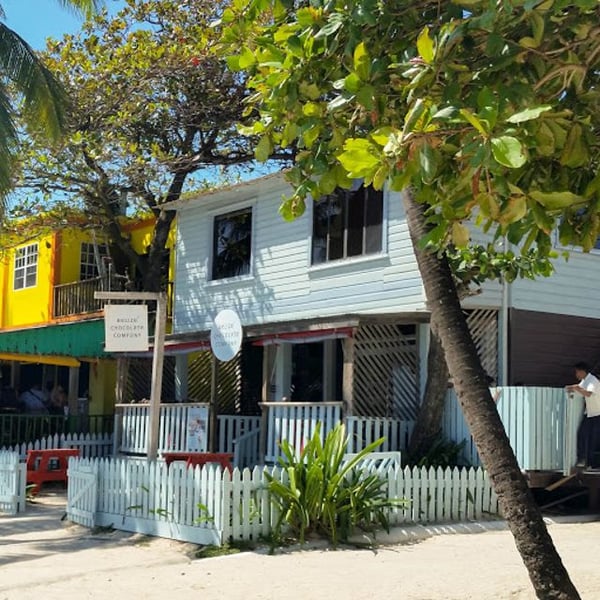 The Beach entrance to the Chocolate Company
Chris also gives classes to schoolchildren. They learn about growing food organically, history, a bit about geography, and even get a thank-you letter writing lesson, all hidden under the guise of chocolate making. According to the letters, they all liked their chocolate samples.
Dark chocolate, with 70% or more cocoa contains many phytochemicals. These substances are thought to promote heart and blood vessel health, elevate your mood, and fight against aging. What's not to love about that? Now you can justify buying the good stuff and nibble happily. For chocolate lovers, this place is a heavenly must see.
We hope you found this article interesting. If you'd like to receive more great stories, sign up for our Newsletter, and you'll be emailed once per month with informative articles written by our team to keep you informed about all things Belize.
When planning your stay in Belize, we can help you book exciting excursions such as snorkeling at Shark Ray Alley, Cave Tubing on the mainland, or flying over the Blue Hole.

Our knowledgeable team will assist you with any tour you would like to take while visiting Belize, so that you can just relax and enjoy the adventure. CONTACT US TODAY.
ECI Development delivers affordable luxury residence and resort communities in Central America, providing our clients with various premier lifestyle options from the Caribbean to the Pacific. ECI delivers inspired residences for adventurous souls.
Coupled with over 20 years of inherent corporate social responsibility in the communities where we work, ECI Development is building a sustainable business that is going to be around for the next 100+ years.