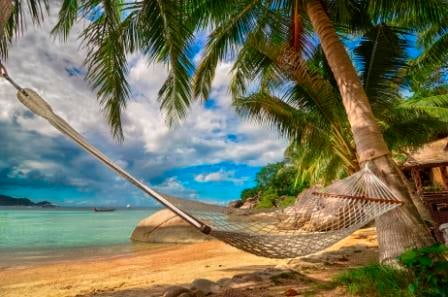 For many investors, there is often one dilemma that prevents them from purchasing foreign real estate. While you may want to invest in a beachfront property in an affordable destination, you might worry about leaving it empty for much of the year or dealing with maintenance issues when you're away. The answer to that problem might exist at Grand Baymen, a resort community on the island of Ambergris Caye, Belize.
Purchasing a condo in the Baymen Gardens community is inexpensive, safe and may just be able to make your dreams come true. Discover six of the countless advantages of purchasing a condo in Ambergris Caye, Belize, that will inspire you to make your own real estate investment in paradise.
You Get the Tropics and the Comforts of Home
Owning a condo in a place like Ambergris Caye means that you will have access to the Caribbean and all the culture, scenery, warmth and vibrancy that goes with it. However, since Ambergris Caye is full of expatriates, you can also have the community life that you're used to back home.
Access World-Class Amenities
Developments in Ambergris Caye such as Grand Baymen are loaded with impressive amenities that make visiting your condo feel like checking in to a world-class resort. Grand Baymen's amenities include access to a stunning white-sand beach, a fitness facility, outdoor swimming pools, and pier and marina, an on-site adventure tour center, a yoga studio and even multiple restaurants. Everything you could need is within walking distance, making it a true retreat on the water in Belize.
Secure Area With Low Crimes Rates
One of the biggest concerns investors have about buying property overseas is safety. Thankfully, Ambergris Caye is a secure place to live, and crime rates are surprisingly low. Best of all, the community binds together to ensure peace of mind and safety for all who live there.
Ideal Location in Belize
Buying a condo in Ambergris Caye means that you will be in an incredibly desirable location within Belize. Ambergris Caye condos are just a short distance from all the exciting tourist attractions on the island, but they are also close to Belize City, the large international airport and the jungle and adventure tours throughout the nation.
Opportunities to Generate Monthly Rental Income
Thanks to the affordable prices of Grand Baymen condos, purchasing one for personal use is a common choice. However, there is also ample potential to bring in rental income since accommodation in Ambergris Caye is in high demand thanks to growing tourism numbers. Grand Baymen's leaseback program guarantees rental income for three years, ensuring you cover any financing costs and bring in a profit.
Ultimate Getaway Spot for Vacations or Retirement
The biggest advantage to purchasing a condo on the gorgeous island of Ambergris Caye, Belize, will be having your own personalized spot to unwind and relax in paradise. Warm weather throughout the year means outdoor activity is always an option on the island. Your condo could be the perfect retirement spot to set aside for the future, or it could be a place where you spend summers surrounded by your friends and family.
Purchasing a condo on Ambergris Caye, Belize, is a smart investment with huge potential, but it also offers practical benefits and a place in paradise for you to call your own.