Animal lovers, rejoice and get down to Belize! Home to 145 species of mammals, 139 species of reptiles and amphibians, and 500 species of birds – there is no shortage of wildlife to spot! Whether you're lucky enough to see one of these animals in their natural habitat or you just see them at an animal sanctuary like the Belize Zoo, they are magnificent creatures and part of what makes the Belize ecosystem so unique.

Black Howler Monkey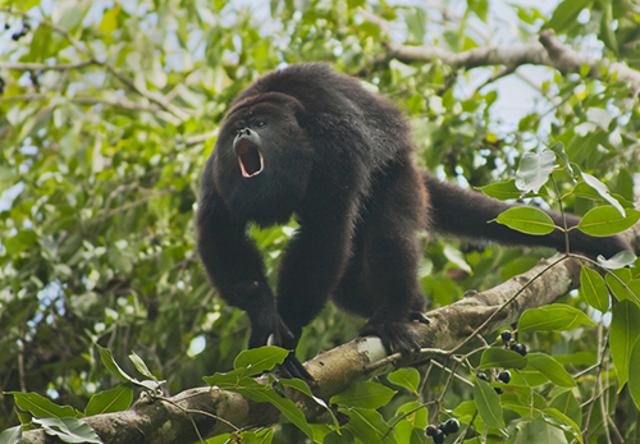 Photo courtesy of Howler Monkey Resort
The Black Howler Monkey, known locally as a "baboon", is the largest species of monkey in Belize and one of 15 species of Howler monkeys. Black Howler monkeys are vegetarians and feed on flowers, leaves, and fruits. Chances are that you will hear a howler monkey before you see one; their howl is one of the loudest animal sounds in the animal kingdom and is used to mark their territory. In the jungles of mainland Belize, you can hear the howls echoing back and forth through the otherwise quiet jungles. For a guaranteed look at a Black Howler monkey, be sure to visit the Community Baboon Sanctuary in Bermudian Landing to learn more about this magnificent primate. Even if you don't get a chance to see a Black Howler monkey, keep your ears open when you're in the jungles of Belize because you are bound to hear one – their howl can travel over 3 miles!
Baird's Tapir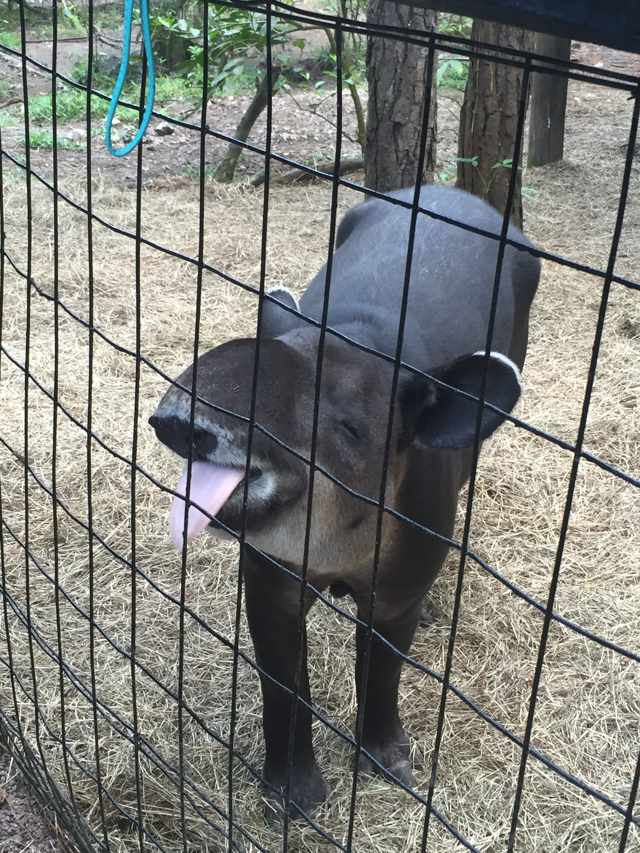 Photo by Betsy Rosenlund
The Baird's Tapir, or "mountain cow" is the national animal of Belize. These forest dwelling herbivores can be found from southern Mexico all the way to northern Colombia, primarily along riverbanks. Tapirs prefer to feed on grasses, aquatic vegetation, leaves, and fruits of low-lying shrubs. Tapirs are both excellent swimmers and agile climbers. Tapirs are typically nocturnal, so they may be tricky to locate in the wild, but "Tapir Town" at the Belize Zoo is home to Fuego and several other mountain cows. Learn more about the Belize Zoo in "Family Trip to the Belize Zoo".
Jaguars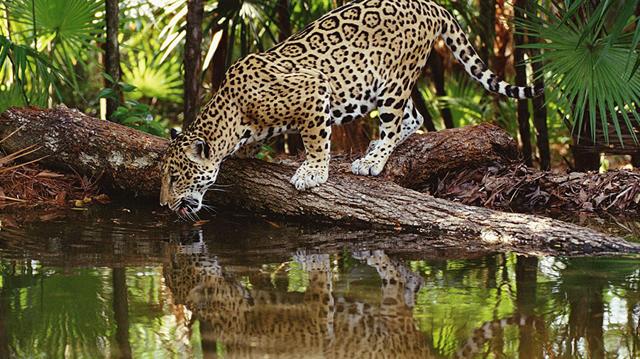 Photo taken by Belize Audubon Society
The Jaguar is the largest and most powerful cat in the Western Hemisphere and is the third largest roaring cat in the world. Jaguars can be found throughout Belize, primarily in lowland forests and the coast. Belize has one of the healthiest populations of jaguars in Central America, due to the fact that they are a protected species. In the Mayan culture, jaguars were highly revered and referred to as "baalum" which means king. Their likeness can be found carved into the ancient ruins of Belize. The Cockscomb Basin Wildlife Sanctuary, about 20 miles from Dangriga, is the only designated jaguar preserve in the world and was once considered to have the highest density of jaguars on Earth. For an up close and personal jaguar encounter, visit the Belize Zoo, where you can meet Junior Buddy, or Rocky, two of the Zoo's resident jaguars.
Keel Billed Toucan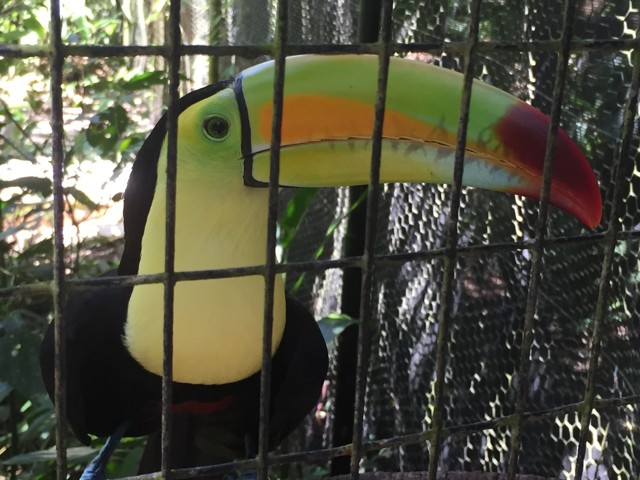 Toucan in the zoo. Betsy Rosenlund
Keel-Billed Toucans or "bill birds" as they are known in Belize, are the national bird of Belize. This beautiful bird's most recognizable feature is the large yellow, orange, red, green, and black bill. Keel-Billed toucans can be found throughout the forests of Belize, where they feed primarily on tropical fruits, as well as insects, lizards, and snakes. This breed of toucan can only be found in this part of the world! Keel-Billed toucans are incredibly social and are typically seen in flocks of six or more.
Scarlet Macaw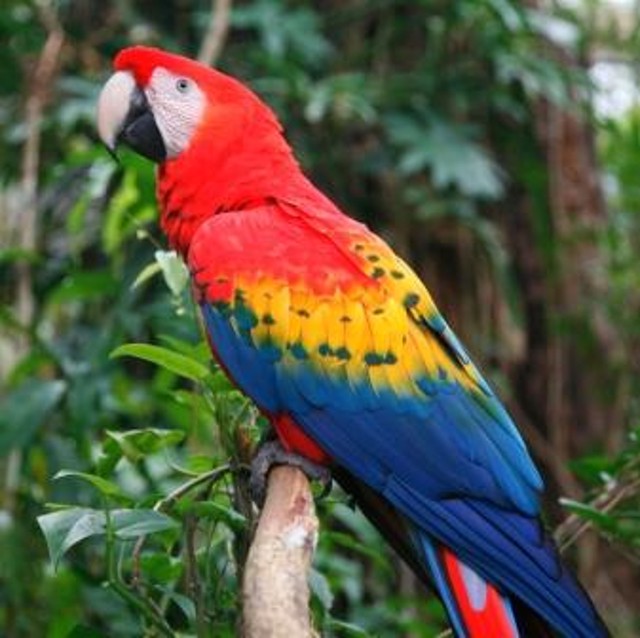 Photo credit: Belize Zoo
The Scarlet Macaw is one of the most recognizable birds in the world. Scarlet Macaws can be found throughout Southern Belize, primarily in the Chiquibul National Park where the birds breed and in Red Bank Village from December through March when they migrate to feed on local seeds and nuts. It is estimated that there are only about 5,000 Scarlet Macaws in the world, with about 250 residing in Belize. Thanks in large part to the Belize Audubon Society, The Belize Bird Conservancy, and Friends of Conservation and Development, the Scarlet Macaw has been able to thrive and the population is on the rebound after decades of poaching.
These are just some of the many amazing animals that call Belize home. If you're an animal lover or avid birder, be sure to add Belize to your travel bucket list, and don't forget to pack your camera and binoculars! If you're interested in a tour to the Belize Zoo or one of the other conservation locations mentioned above, our Grand Baymen office can help you book a tour!
We hope you found this article interesting. If you'd like to receive more great stories, sign up for our Newsletter, and you'll be emailed once per month with informative articles written by our team to keep you informed about all things Belize.
When planning your stay in Belize, we can help you book exciting excursions such as snorkeling at Shark Ray Alley, Cave Tubing on the mainland, or flying over the Blue Hole.

Our knowledgeable team will assist you with any tour you would like to take while visiting Belize, so that you can just relax and enjoy the adventure. CONTACT US TODAY.
ECI Development delivers affordable luxury residence and resort communities in Central America, providing our clients with various premier lifestyle options from the Caribbean to the Pacific. ECI delivers inspired residences for adventurous souls.
Coupled with over 20 years of inherent corporate social responsibility in the communities where we work, ECI Development is building a sustainable business that is going to be around for the next 100+ years.