If you are coming to San Pedro on vacation or permanently, at some point during your time here, you'll want to rent a golf cart to explore parts of the island not easily accessible by foot or bike.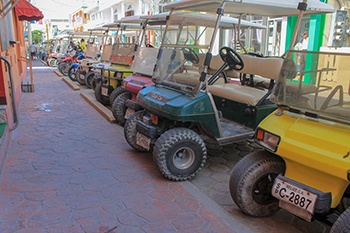 Upon arriving to the island, you'll notice the wide variety of golf cart rental companies. It is important to do your research and check around with a few different companies to ensure that you're getting the best rate available. Another tip to remember is that the longer you rent it, the better the deal you are likely to get. A 24-hour rental will typically run about between $45 to $60 USD. A 5-day rental, between $200-300, and month-long rental is typically between $500 - $650. Don't be afraid to negotiate if the price seems high, there is often a bit of wiggle-room. A few places that we recommend for rentals are J & H (located on Front Street) or Island Adventures, just a few steps away from the airport. Don't want to deal with choosing a company or haggling prices? Grand Baymen will happily arrange a golf cart before your arrival or at any point during your stay at a competitive price.
Once you've secured your golf cart rental - make sure that you know the rules of the road and how to drive your cart. When you pick your cart up - they'll give you a quick overview of how to drive. There are only 3 gears: forward, neutral and reverse - make sure your clutch is in the right direction or you might hear some screeching sounds! While it may seem fun to go whizzing around town as fast as you can, it is dangerous for you, the golf cart, and the many pedestrians and cyclists that travel on San Pedro's roads. Here are a few safety tips to keep in mind: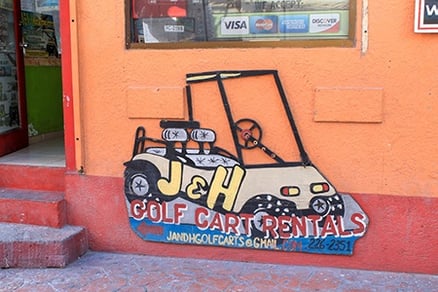 1) You must be at least 18 years old and have a valid driver's license to drive a golf cart. Traffic officers do periodic license and registration checks, and you don't want to get stuck with a ticket on vacation!
2) Be sure to lock your golf cart up any time that you are leaving it unattended. Most carts have the same ignition key, so it can be easy to accidentally start up the wrong cart!
3) Slow down when approaching and crossing speedbumps - you don't want to lose a tire or a passenger! Also keep an eye out for the speed "dips" (think inverted speedbump) that are prevalent on the 3 main streets.
4) Look out for red "No Parking" strips painted on sidewalks and streets. Sometimes it's worn off, but the rules still apply. Keep any eye out too for other posted signs – traffic officers will be quick to issue a ticket for disobeying any posted signs!
5) Learn the hand signals for turns: drivers arm upright = right hand turn, drivers hand extended horizontally = left hand turn.
Depending on how far you adventure or how long you rent your cart for, you'll likely need to fill up with gas at some point, at the very least before you return your golf cart. To check your fuel levels, you need to lift up the front seat of the golf cart and look at the plastic fuel tank. You may need to jiggle your cart or open the cap to see what the gas level is in your tank. Some carts have a gas gauge, though it is not always reliable! To fuel up, there are two gas stations on the island called Caribeña Fuel. One is located just 2 blocks south of Grand Baymen after the turn in the road - this is the easiest one to find. To get to the other location, drive to the northern end of "Back Street" and go west at the chain link fence – you'll see signs directing you to the gas station. Gas is pumped by an attendant and runs about $5 USD/gallon. A typical tank is about 6 gallons.
NOTE: Prices mentioned are as of March 2018. They are subject to change.