Dear Readers,
This will be the first in a series of blogs from new arrival to the region, Jessica Wolfe. Jessica recently had her first experience in Belize, and has written several stories to document her experience. For those looking into Belize for the first time, or for those who have been living here for a long time, seeing the country through fresh eyes can be invaluable. We are happy to welcome Jessica to Central America, and look forward to her future articles.
Think you have a story to tell? Maybe a secret to living on Ambergris Caye you'd like to share with the world? Send your submissions to joseph.duchene1@gmail.com with the subject line "GB Blog Your Name.
Sincerely,
Mike Cobb
___________________________________
Welcome to Belize!
by Jessica Wolfe
"Attention DFW passengers and flight crew, there will be a church service held in Terminal D at 10:00. Again, there will be a service at the chapel in Terminal D at 10:00.
The loudspeaker clicks off and I can hear the grumbles of frustration start up again. It is 9am on the first Sunday of March and, though we''ve just been invited to church, my fellow passengers and I still have no news on how long our delay will last.
As though sensing the low morale, our pilot emerges, hot beverage in hand, from an airport coffee shop to offer his apologies. As he sips out of the mug, he explains that the aircraft is essentially a frozen icicle and DFW, unused to the conditions, simply doesn't have enough deicing fluid.
From here, he says, it will become a waiting game until temperatures increase or until more deicing fluid is brought in. I assure you, this flight will leave, he states as he types out a code onto a monitor mounted beside the hangar entry, Just not anytime soon.
He flashes a sly smile as the hangar door clicks open and he ducks out. Oh, the painful irony of being trapped by the very weather we were so anxious to escape.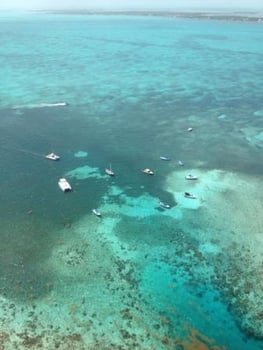 5 hours and one complimentary Bloody Mary later, I board my connecting flight in Houston. My assigned middle seat is between two women who, at first glance, look as though they''re complete strangers off to attend the same business convention.
However, when I go to sit, they peer over at one another and giggle as one scoots to the middle so they can chat.
"I like to dive," Mary adds matter-of-factly.As our flight progresses, they tell me they''ve been friends since the seventh grade- every year the two catch up by taking a week-long trip to different vacation spots. Mary, the woman sitting in the window seat, gushes that after their initial positive experience in Belize, she''s been back various times and even owns a property in San Pedro.""I like t get massages," her friend chimes in, "And at the end of the day, we both come home with big smiles."
After landing and wishing my new friends farewell, it''s time to board the TropicAir puddle jumper from Belize City to Ambergris Caye. Palm leaves sway in the warm, comforting breeze as I walk toward the aircraft. Suddenly, the moment hits me - I am truly, finally, in Belize. I welcome the feeling of comfort that washes over me. Despite never having been to Belize, I feel as though I''ve arrived home.
The TropicAir flight into Ambergris Caye leaves at 4:45pm when the sun is low; rays of light cast sideways shadows on the clear, seafoam green water beneath us. Our aircraft glides alongside diffuse, fluffy clouds that create a misty haze as we drift along. Sandbars and secret islands dot the reef like an unfinished puzzle, seemingly creating shapes and stories in their patterns.
Onboard, there is an electric excitement- fellow passengers gaze out the windows, hold out maps or clasp hands as they plan and imagine their next adventure.
Stay tuned for more articles from Jessica.