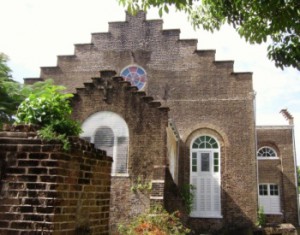 Belize City, with a population of about 50,000, is the largest city in all of Belize. Along with Ambergris Caye, it is in the Belize District. The Belize River meanders through the community and twice a day, a swing bridge opens for 20 minutes to let sailboats pass through.
The architecture in Belize City mixes Caribbean styles with British Colonial styles remaining from the days when the country was known as British Honduras.
Early History
Belize City traces its history back thousands of years. The Altun Ha ruins are just 30 miles north of town. Although literally hundreds of ruins are scattered over a 5 square mile area, the site was not even discovered until 1963 when a Mayan researcher noticed it from the air. The "Temple of the Masonry Altars" is the tallest of the remaining historic structures. It is 54 feet tall.
In the 1600s, the area was home to mahogany loggers. In fact, hikers and eco-tourists can traverse over 100 miles of old logging trails in the area.
A Center Of Eco-tourism
The former customs wharf area has been transformed into a bustling center of local commerce. Craftsmen and artisans intermix with numerous tour guides that can offer adventurers knowledgeable treks to memorable area destinations. Included in these are the Altun Ma ruins, the Belize City Zoo, cave tubing and zip line canopy tours.
An amazing 40 percent of Belize's land mass enjoys some sort of protected status. No wonder this small nation has become one of the most popular eco-tourist destinations in all of the Western Hemisphere.
Adventures Await
Everyone from thrill-seekers to eco-tourists can enjoy zip lining through the rainforest canopy. The adventurous will enjoy speeds of up to 40 mph. The ecologically inclined will be fascinated by the views from 70 to 90 feet off the ground. Black howler monkeys will often accompany intrepid visitors as they dart among the treetops.
After zip lining, you can check out the 29-acre Belize City Zoo which includes about 50 different animal species. This is one of the most natural of all zoos. The native vegetation remains, and visitors experience the area from gravel paths.
If you're into exploration of the mysterious, visit the caves of Belize City. Area caves have both zoological and anthropological significance. Mayan priests carried out ancient rituals in the very caves that visitors can experience today. These exotic underworld realms are home to freshwater crabs, catfish, bats and exotic spiders. One can even experience a waterfall in a cave. Cave tubing is yet another memorable pastime near Belize City.
Enjoy a trip to Belize City to experience the historic architecture and diverse cultures of Belize. Consider Belize City a gateway to varied experiences that will further add to the fullness of your Caribbean adventure.