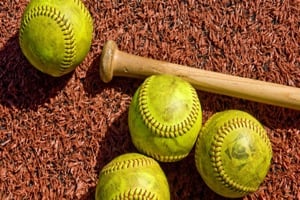 It's been revealed that Holy Cross Anglican Primary School has received a welcome donation of sports equipment, allowing teachers to provide brand a new kit for the students.  On Wednesday January 29th officials presented the donation to the school from the San Pedro Town Council (SPTC) and the San Pedro Sports Council (SPSC).
The welfare of children on Ambergris Caye is a top priority for many officials, and sporting activities have been championed as a great way to get kids off the street and engaging in more productive activities. Now, the students of Holy Cross Anglican Primary School will be able to indulge in the enjoyable sport of softball after both the local town council and sports organization provided this new equipment.
The town council has been keen to promote youth sporting activities before, supporting many ventures that allow youngsters to come together and compete in both individual and team sports.  This year they have already exhibited a further commitment to this priority, presenting the softball team, along with the coach and teacher, Brandon Bood, with the supplies.  In attendance at the presentation was SPSC member and local athletic hero, Kent "Bob" Gabourel, and councilor member Gaby Nunez.  This not only provided the kids with a chance to enjoy the handing over of equipment, but also to meet a resident whose sporting achievements are recognized around the world.
Talking of the new sporting equipment, Mr. Bood said that the extra supplies had been much needed.  "These children love playing softball and they are good at it.  We are thankful for the donation, it will really help our team better themselves."  As part of the donation, the school was presented with three softball balls, two softball bats, a complete set of protective gear for the catcher and ten softball mitts.
For many youngsters living in San Pedro Town, being able to access sports allows them to get out of the house and enjoy a pastime that provides stimulation and growth, both physically and mentally.  Volleyball and soccer are both popular sports, and numerous students are involved in cycling and basketball activities.  With the donation of new softball equipment, it's hoped that kids will embrace this new activity too, providing even further interest for the children on Ambergris Caye.