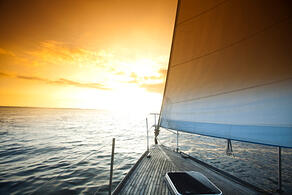 If you are lucky enough to spend some time on Ambergris Caye, then you might see the boats and yachts that dot the sea surrounding the island.
From local fishermen catching fresh seafood to supply the restaurants all the way to travelers learning how to sail, a lot of fun can be had on the ocean.
The epicenter of these water-based adventures is the Ambergris Caye Resort Pier and Marina in Belize. Located just next to both the Grand Baymen Beach Resort and the Exotic Caye Beach Resort, the pier and marina are ideal for all of the following fun activities:
Sailing Lessons
This is one of the most popular spots for sailing lessons. Whether you are quite experienced and just need a watchful eye as you pick up new skills or you are a complete beginner, you can find the right lessons to match your level. There are smaller sailboats where even children can master the art of sailing, and there are large yachts where you can have a full crew man the sails.
Fishing Adventures
A quick visit to the Ambergris Caye Resort Pier and Marina will reveal that it can be a fabulous fishing spot. Belize boasts a number of tropical fish as well as inland fish, but the pier can be a great place to reel in snapper or jackfish. Of course, you can also book a boat tour that takes you out to sea to try your hand at game fishing for tuna or marlin.
Para-Sailing
There is no question that Ambergris Caye is a beautiful destination, and one of the best ways to take in the views is by air. Para-sailing doesn't require any training, and it is suitable for almost everyone. You will get a fantastic birds-eye view of the coast on this amazing trip through the sky.
Scuba Diving or Snorkeling Boat Tours
If snorkeling or scuba diving off the coast isn't enough excitement, the marina is where you can hop aboard a larger boat for tours to deep-water reefs full of interesting marine life. Great places to explore underwater include Shark-Ray Alley and the Hol Chan Marine Preserve.
There really is no end to the fun things you can do, see and explore at the Ambergris Caye Resort Pier and Marina. Click here to learn more about all the incredible activities available to guests and residents in Ambergris Caye, Belize.