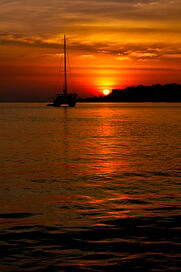 Placenica is a favorite destination in the Stann Creek District of Belize. Stann Creek is the largest district in the country, and yet its population is only about 25,000. As a result, adventurers and Eco-tourists coming to Placencia typically find miles of uncrowded white sand beaches, open ocean waters, and inland waterways.
The Caribbean Coastline
Belize's Barrier Reef ranks second only to Australia's Great Barrier Reef. Fishing the saltwater flats off the shores of Placencia offers devoted anglers a consummate fishing experience. Sailing of many types is possible. Rent a sailboat for an overnight journey that includes expert navigation by the captain. Catamarans can be rented with a crew, or without.
Placencia's expansive shoreline has been described as having simply perfect "barefoot beaches." Luxuriate in over 16 miles of them. Just relax amidst the bright sand and the crystalline waters, and you'll feel refreshed and renewed. There's also water to be enjoyed in the form of a virgin lagoon replete with mangroves and manatees. Inland rivers offer those with canoes and kayaks richly rewarding experiences. The Monkey River is aptly named, thanks to the Howler Monkeys that inhabit the area. The peninsula offers excellent diversity in both flora and fauna. Enjoy tropical birds, butterflies, and even iguanas during your adventure.
Placencia Events
In addition to the wide variety of ongoing pleasures, there are seasonal events as well. Come June, it's time for Lobsterfest. In December, intrepid runners can enter the Palcenica marathon. There is a half-marathon as well.
A Convergence of Cultures
Placencia is on a peninsula on which you'll find a rich convergence of the cultures of the Garifuna, the Creoles, and the Mayans. For more about the people of Belize, click here. Visitors invariably marvel at the ancient Mayan ruins found near the peninsula, including those at Lubaantun and Nim Li Punit. The jungle trails through Cockscomb Basin Wildlife Sanctuary are unforgettable. Cockscomb is in fact the first jaguar reserve in the world.
Visitors can take advantage of the modern highways that now link Belize City, Ambergris Caye, and other areas to the north. Or, hop on a plane from Belize City, and you'll arrive in Placencia in just 20 minutes.
Placencia offers a truly rich diversity of adventures. It's a superb destination for eco-tourists. Kayakers, divers, and swimmers will all find fulfillment in Placencia.