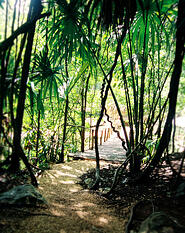 The Toledo District in southern Belize is a favorite of intrepid explorers, adventurers, and eco-tourists that are less interested in tourist-oriented destinations.
Only 23,000 people inhabit this area of Belize. The capital of Punta Gorda has 3,500 residents, most of whom are Garifuna and East Indians. Most speak English. The Toledo District is a land replete with mountains, rainforests, rivers, Mayan villages, and the Carribean.
The latter boasts fabulous coral reefs and coastal lagoons. The lagoons offer ideal habitat for a host of bird species and varied wildlife. The well-known Barrier reef is found 35 miles offshore. Nature preserves along the coast are home to over two thousand species of plants.
Highlights of Belize
Visitors can explore a host of nature trails, including those at the Columbia River Forest Preserve, the Sarstoon Temash National Park, and the Bladen Nature Reserve. Archaeological sites of note include Lubantuun and Nim Li Punit. Some areas of Toledo are remote enough that it is believed that there are more jungle-covered Mayan ruins still to be discovered. Natural wonders include the spectacular Keyhole Cave located in the Bladen Nature Reserve. Toledo adds immeasurably to the list of things to do in Belize.
The Forgotten Hosting the Unforgettable
Sometimes termed the "forgotten district," Toledo is in reality a lightly-populated land of unforgettable wonders. Also, there may not be a lot of people in this area of southern Belize, but they remain an important reason to visit.
The friendly residents and the diverse array of visitors make for endless casual, friendly, and rewarding encounters. The Mopan and Ketchi Maya, the Creole, the East Indians, and the Garifuna are all citizens of Toledo that are most welcoming. A scenic and relaxing trip to Toledo from Belize City takes about four hours by automobile.
To learn more about Toledo and the other Belize Districts, click here.