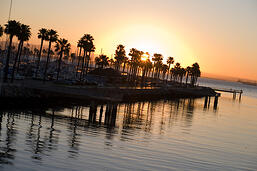 If you are thinking about retirement in an exotic destination, considering a rental property for family vacation spots or interested in new investment opportunities out of the country, then you might be planning
a weekend visit to Ambergris Caye, Belize
. This destination is beautiful, warm and inviting, but many visitors are also surprised to discover that it is affordable as well. If you are thinking about making an investment there, be sure to visit Ambergris Caye, Belize, first and discover what makes the area so great. Use this guide to make the most of your weekend trip to Ambergris Caye.
Arrival and Transport
Most travelers who come to Ambergris Caye will arrive by plane to Belize City. From there, options include a short 20-minute flight or a slightly longer boat journey to the island of Ambergris Caye. If you are staying at the Grand Baymen or the Exotic Caye Beach Resort next door, transport from the airport can be arranged for you.
Day 1: Get to Know the Grand Baymen
If you are serious about making an investment of any kind in property at the Grand Baymen, you will definitely want to explore the onsite facilities and amenities. Living here gives you more than just a place to sleep, and you will want to enjoy as much as possible to see what else is offered. Swim in the island's largest pool, spend time at the San Pedro Fitness Club, dine at the onsite resorts or relax by the shoreline. The property boasts countless things to do and see, and you will get access to shared amenities between Grand Baymen and Exotic Caye.
Day 2: Get to Know Ambergris Caye
Don't forget that there is a lot that exists beyond the resort itself. You might want to venture into the town of San Pedro and enjoy some of the local cuisine, or you could take a boat tour around the island. For something unique and certainly exciting, go snorkeling or scuba diving in Shark-Ray Alley or the Hol Chan Marine Reserve.
Final Departure
Once your weekend visit to Ambergris Caye has ended, you can choose to fly or take a ferry back to the international airport in Belize City. Flights are frequent, and it is less than 90 minutes to get to some cities on the Eastern Seaboard of the United States.
To really get a feel for the Gran Pacifica, you should visit Ambergris Caye, Belize, in person. Click here for information on enjoying a weekend getaway to this amazing destination.