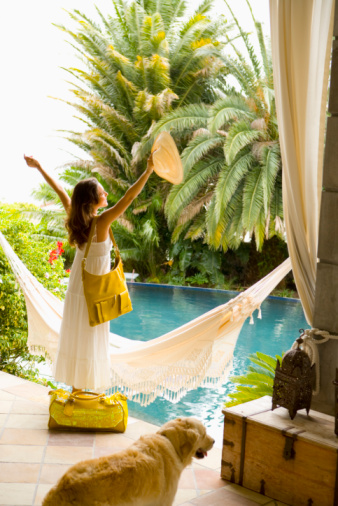 If you spend any time planning a vacation to Ambergris Caye or researching the destination, you will come across hundreds of enthusiastic reviews from people who had the time of their lives swimming with sharks, sipping cocktails by the pool all day or taking day trips to Mexico by boat. Although there is no question that these are some of the highlights of this destination, potential full-time residents want a more realistic look at daily life. To help you understand, here is an outline of a typical day for someone living on Ambergris Caye Belize.
Wake Up In Personalized Comfort
One of the biggest perks of actually living in a tropical destination like Ambergris Caye is that you get to wake up in paradise, and you still have all the comforts of home nearby. You can wake up in your own comfortable bed, dine on your favorite cereal and sip on freshly brewed coffee. Of course, as you do these relatively mundane tasks, you can take in a breathtaking view of the ocean, and you'll enjoy warm temperatures with just a hint of a refreshing sea breeze.
Get Active at the Fitness Club
When you're actually living on the island, you will want to keep active on Ambergris Caye. One of the best ways to so do is at the San Pedro Fitness Club, which is part of the Grand Baymen property. You can swim in the island's largest pool, workout in the contemporary fitness center or even join in with group fitness classes throughout the day.
Meet With Friends and Socialize
When planning a move to a new country, many people are concerned that they will have to leave their social life behind. Thankfully, there are plenty of social activities on Ambergris Caye. You might chat with friends who are just visiting by the pool, or you could discover that your condo neighbors are a retired couple with a love for the same movies as you. There are activities for families with children that are scheduled on the island throughout the year, and there are countless opportunities to make friends.
Dining and Nightlife on Ambergris Caye
Since the cost of living on Ambergris Caye is so low, residents can easily afford to go out for dinner for the same price as a basic meal would cost back home. You can dine at beachfront restaurants offering international fare, or you can enjoy traditional seafood specialties from local eateries.
Ambergris Caye is an incredible vacation spot, but it is also a nice place to call home. A typical day there is different for everyone, but this sample gives you an idea of what you can look forward to.