Whether you are thinking about inves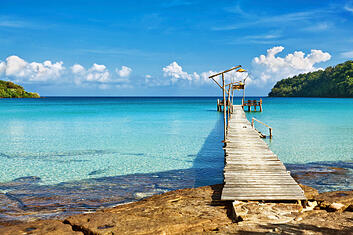 ting in Ambergris Caye, moving there permanently, retiring or just coming on a short vacation, you will probably be drawn to the Grand Baymen community and the Exotic Caye Beach Resort.
While Grand Baymen is the destination for those who want to live in Belize, the Exotic Caye Beach Resort is a short-term vacation accommodation choice. Luckily, these two properties share many of their amenities, so travelers get twice as much enjoyment. Here are some of the top amenities and facilities available to residents and visitors on Ambergris Caye.
Stay Active at the San Pedro Fitness Club
There really can be no question that the most popular amenity offered is the San Pedro Fitness Club. Whether you want to swim, join in with a group fitness class, play tennis or just relax by the pool, this is the perfect destination for you. The San Pedro Fitness Club is actually home to the island's largest swimming pool, which means that there is always a lane free for swimming.
Outdoor Recreation and Equipment Rental
If a quick dip in the pool isn't enough excitement for you, head right out onto the private beach and try something a little more thrilling. The Exotic Caye Beach Resort can rent you sea kayaks, set you up with windsurfing lessons or even rent you all the necessary supplies to go snorkeling right off the coast. If you want to escape from the resort and visit some of the top attractions and scenic destinations on Ambergris Caye, staff can help book your tours and diving expeditions right from the comfort of the hotel property.
Dining, Drinking and Dancing Galore
Whether you want to spend your vacation indulging in gourmet cuisine or you just want something quick to eat before your next adventure, you can find it all on the Grand Baymen and Exotic Caye Beach Resort properties. At Ms. Sarah's Cafe, you can enjoy a light and healthy breakfast with fresh fruit, and at the Iguana Grill you can indulge in some local and international favorites for dinner. Kick back with a cocktail at sunset or even some time on the dance floor at the fun and lively Crazy Canucks Beach Bar.
By sharing amenities, both the Grand Baymen and the Exotic Caye Beach Resort are able to offer more to their guests. Click here to learn more about the fabulous amenities and facilities available on Ambergris Caye.
The Grand Baymen community and the Exotic Caye Beach Resort are two exceptional properties that sit side by side on Ambergris Caye. Whether you are a permanent resident or a visitor at the hotel, you can enjoy the amenities that they offer their guests. The San Pedro Fitness Club offers a pool, a gym and plenty of group fitness classes. Guests can also rent sports equipment, and there is no question that the bars and restaurants are excellent.