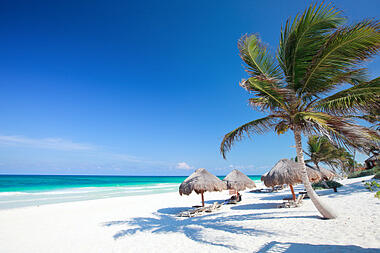 Whether you are planning the perfect vacation or deciding where to retire, there is a good chance that Ambergris Caye tops your list of potential destinations. This breathtakingly beautiful island off the coast of mainland Belize is a paradise on Earth. Offering both secluded beaches and vibrant modern towns, there is no question that Ambergis Caye is somewhere that most people would love to visit. While the snorkeling, scuba diving, beaches and natural scenery are all impressive, you might want to dig deeper and uncover the
amenities available to visitors and residents
. Here are some of the island's best pools, fitness facilities, restaurants and more.
Best Pool on Ambergris Caye
Although the beach may be the most popular place to go swimming on the island, diving into the refreshing water of a cool pool can be a fantastic way to chill out on a hot day. One of the top Ambergris Caye amenities is the giant pool that is located on the Grand Baymen property. Accessible to both permanent Grand Baymen residents and visitors at the Exotic Caye Beach Resort, this pool holds a staggering 250,000 gallons of water at a time. Swim in the lap lanes, splash in the children's pool or just cool off under the sun.
Best Fitness Facility on Ambergris Caye
Although relaxation might mean napping under the shade of a palm tree, some individuals want to stay active even in the Caribbean. The best way to do so is by finding a fitness facility that boasts modern equipment, personal trainers with extensive experience and air conditioning to keep you cool as you work out. If you are looking for the best option across the board, look no further than the San Pedro Fitness Club. Members and property guests can take group yoga classes, play tennis and stay fit with ease.
Top Dining Options on Ambergris Caye
Although there are a number of dining options on the island, serious foodies will want to pick somewhere to eat that boasts excellent preparation and fresh local ingredients. At Grand Baymen properties, you can enjoy homemade breakfasts overlooking the water, affordable gourmet seafood dinners and lively cocktails and dancing at Canuck's Beach Bar.
To make the most of any stay on the island, you will want to seek out the top Ambergris Caye amenities. Click here to learn about top place to stay on the island both short and long-term.
No matter how beautiful a destination like Ambergris Caye might be, visitors and potential long-term residents should keep an eye out for the best amenities on the island. Thankfully, Grand Baymen offers just about anything you might need for a relaxing and comfortable stay in this tropical paradise. Guests love swimming in the island's largest pool, and there is no end to the fitness opportunities at the San Pedro Fitness Club. Of course, dining is always a priority, and you can indulge in beachfront meals and fun nightlife any day of the week.