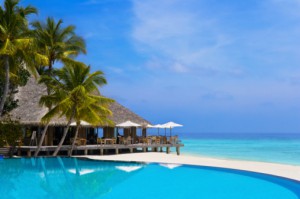 Belize's infrastructure has a long history behind it, but that doesn't mean that it doesn't also bear many modern investment opportunities. The country is becoming a tourism and retirement destination with an unexploited nature that actually works in favor of those who want to invest in Ambergris Caye Condos.
Staying Local
Although the island of Ambergris Caye is small, San Pedro is the second largest town in the Belize District. The fact that it's home to such a wide cross section of cultural backgrounds makes it easy to find neighbors who speak both Spanish and English. This fact alone makes San Pedro Town unique among Caribbean real estate destinations because it's easier for people who move there to adjust to the local flavor. Accordingly, investors find that they can rent their properties here with ease.
The tourism-friendly nature of Ambergris Caye, and especially San Pedro, also makes it simpler to find properties with more modern conveniences without restricting yourself to a tourist district or gated community. And because Belize's contemporary economy heavily emphasizes stability and privatization, investors can actually profit from their real estate without worrying about whether they'll be on the right side of history or regime changes. Belize's civil infrastructure also allows real estate owners to benefit from conveniences like increased regularity of electric services and communication networks.
A Natural Tourist's Haven
Ambergris Caye condos are also popular because the island is a great way for newcomers to learn about the country. Ambergris Caye is full of ancient Mayan artifacts, scuba-friendly sinkholes and regular boat trips to nearby barrier reefs and mangrove swamps. The north end of the island is known for its well-stocked natural reserve areas where visitors can meet jaguars, leopards and many other typical examples of the exotic wildlife of Belize.
Because there's so much to do outdoors, condo rentals are extremely popular for tourists who want to establish a familiar base of operations before they head out and see everything they can. This makes them even more popular with those who want to buy or develop real estate, and the preponderance of ecologically conscious property options means that you don't have to sacrifice your principles to enjoy paradise.
Renting a Belizean condo in Ambergris Caye's San Pedro Town is a great way to experience the local life, regardless whether you're all about the exciting nightlife or you just like the peace and quiet of the natural wild. What many people don't know, however, is that condos in this area represent some of the best real estate investment opportunities in the Caribbean. Retirees and those who plan to eventually move somewhere quieter when it's finally their turn to kick back for good all love investing in Belize, and Ambergris Caye is one of the country's top locations.