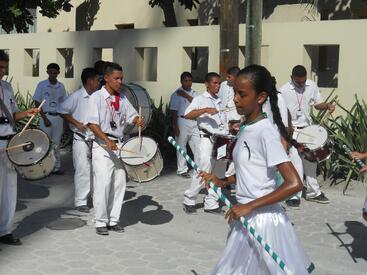 There have been hundreds every year that visit San Pedro Belize on Ambergris Caye Island. In fact, the song La Isla Bonita, recorded in 1987, mentions the quaint town. While it is a place that may be considered quaint by American standards, it is one of the largest cities on the island of Ambergris Caye in Belize.
Modern & Historic
There is no easy way to describe the city of San Pedro. It is a place filled with a history that can almost be felt in the walls of the buildings. It is eerie to stand in a place that has been a home for people for so many years. The quiet and the peace are almost palatable. Today there is a mixture of modern architecture and historical buildings.
Rather than the city growing within itself, it grows outward as the population increases. That means that the entire city has about the same level of population. The beach communities are near the northern edge and it is quiet there, but there is always a group or two of people moving around. As it is with most people on vacation, everyone wants to make the most of every minute they have.
Cultural Mix
Because of the new high speed Internet, Americans have been moving to Belize left and right. It is easy to get into a condo and there is really no reason to not make paradise your home. This makes the heart of the song "La Isla Bonita" a combination of local people and the newer Americans. The American lifestyle seems to be left behind and a new, more peaceful way of life has been adopted.
Just the Ocean and the Sun
From the southernmost part of San Pedro it is only about ten minutes to the beach. Sunset lights the entire city in a way that cannot be seen anywhere else in the world. San Pedro lies on the island of Ambergris Caye, so the sun rising and setting is not blocked by anything. The atmosphere has very little pollution and it is one of the clearest skies that can be seen.
It seems that even with the infusion of more and more people that nothing ever changes. The lifestyle is still quiet and peaceful and the way of life has that quality that can only be found in truly happy people. There is not one ounce of stress on any face that a person see, just the quiet reservation that everything is as it should be.
Everyone should visit San Pedro, Belize at least once. After that it is a place that is hard to get out of the mind. It has an addictive quality that will keep the person coming back for more, until they finally give up and succumb to the charms of the island while living in their new home.