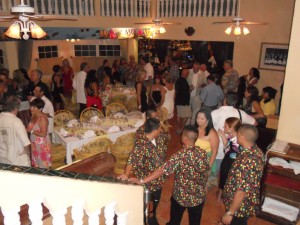 If you've been reading this blog for a while, you most likely know that our favorite Friday night hang out in San Pedro is Wine de Vine.(After all, Mike and I moved here from Northern California, and often visited Napa Valley)
We were pleased as punch when Wine de Vine decided to stay open late on Fridays for an informal wine tasting evening."It's one of the few hangouts on this island where smoking is not allowed.� (I am surprised by how many people smoke in the open air bars�)� And the Wine de Vine regulars are mainly other business owners.� So the clientele tends to be in the know�
About once a quarter Wine de Vine puts on a special wine-dinner event.� This is the most sophisticated events on this island.� Anyone can attend, but it is a bit pricey by Belizean standards.� Usually the cost is about $70-75 US/person, for a 4-5 course dinner, with all the wine one can consume.� The wine is outstanding, and the pours are generous.
IL Divino Restaurant - the Perfect Venue
In June the event was held at Il Divino, one of the largest and nicest restaurants on the island.� Il Divino is part of the Banana Beach compound.� Jimmie and Crystal Dean, the owners, are an energetic, likable young Canadian couple. �Although you will usually see them at their resort, Jimmie also moonlights as the lead guitarist at Crazy Canucks on Sunday afternoons. (That boy can rock!)
The layout at Il Divino is perfect for this type of event.� The restaurant has both an upstairs and downstairs seating area.� We grabbed a table on the upstairs balcony. That way we could look down on the main floor and check out the action below.
About 70-80 people attended this event, so it was a full house.� Jimmie and Crystal closed the restaurant that night to any other clients, as the event had sold out.
A Lobster Starter for the Lobster Fest
The first course was lobster ravioli with garlic cream sauce.� Gunther, of Mathieu�s Deli, had prepared the ravioli, so we knew it would be delicious.� �It was a perfect start to the dinner, given that the Lobster Fest Week was well underway.� We had all been deprived of the spiny crustacean for several months� A French Sancerre Blanc was paired with the ravioli.� Having just returned from France, I was thrilled to reflect upon our recent trip with a French wine.
My Favorite Wine of the Night
The second course was a bi-colored beet and celery potage with cr�me fresh.� Much to our surprise, we all liked it.� �Certainly the swirled pattern of burgundy and light yellow soups was visually stunning.� This soup appealed to both our eyes and palates.� The paired wine, a Vinos Montes Limited Selection Sauvignon Blanc, from Chile, was perfect.� It had a delightful ephervesant quality and light note of grapefruit and citrus.� This wine was divine!
Next we were treated to a sorbet palate cleanser.� Our good friends from DanDe�s provided freshly made lime and mango sorbets.� They were the perfect treat before the main course.� And I was happy to keep drinking that luscious Montes Chilean Sauvignon Blanc�
Next was the main course.� We had ordered the salmon on blackberry sauce, with rice pilaf and green vegetable.� But we forgot to put out our little salmon ticket.� So we were given the stuffed Cornish game hen on blackberry sauce with the pilaf and vegetables.� I�ll admit it� By that time I was feeling no pain and was no longer hungry.� So I just picked at the hen, which was good, but heavy fare.
A M. Chapoutier La Sizeranne Hermitage, Cotes du Rhone, again from France, was served with the Cornish game hen.� A Vinos Montes Alpha Pinot Noir, from Chile, was served with the salmon. �Darn, I would have preferred to indulge in the pinot�
Yummy White Stilton Cheesecake
This dessert was a knock out.� At Wine de Vine Fridays, we often order the white stilton cheese with candied mangoes and ginger.� It is so rich and creamy, and with the kick from the tart candied fruits.� So when I heard that a cheesecake was being prepared with this wonderful cheese, I could not wait to try it.� Good thing I picked at the Cornish hen.� That meant I had room to eat all of my cheesecake.
We had the choice of a Frontera Merlot � Rose from Chile, or a Pisano Fortified �Licor de Tannat� Oneko, from Uruguay.� Since we had experienced drinking superb roses in Provence, we went with the Chilean rose.� Although good, it just wasn�t the same as the Provencal roses.� But, heaven knows, we had our fair share of those while on vacation.
Bottom Line
So - whether you plan to rent a place on Ambergris Caye, or live here fulltime, if you enjoy good wine, good food, and great company, this event is worth the entry price.� People enjoy getting a bit dressed up, since we don�t often have a chance to do so.� And it�s a great chance to check out the local movers and shakers.
You can learn more about Wine de Vine at here...
Wine de Vine puts on a classy, satisfying, tongue tingling event.� But be forewarned, if you attend, you�ll want to take it slow the next morning...