Joey Stevens is a fixture on the One Caribbean Weather channel, WSEE. The Dean of Caribbean weather forecasters, once you've seen him, you won't forget him... After all, his sidekick, Bob the parrot, is always at his side. Joey has been providing forecasts in the Caribbean for over 30 years. His tag line - "It's going to be Hot, Hot, Hot!"
Joey is an Ambassador for the region. He travels the Caribbean, providing weather updates from a variety of different island locations. Wherever he travels, his on-air presence brings positive broad based exposure to the region and local businesses. He's already been telling his viewers about his upcoming trip to Ambergris Caye during his local Caribbean newscasts.
Now that San Pedro's Lobster Fest is recognized as a colorful regional event, Joey's going to help. He'll cover the entire week of events, scheduled from June 14 through the big bash on June 19th at the Town Square.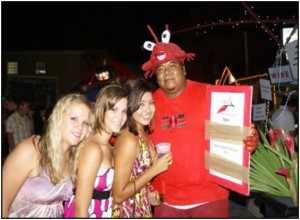 Remember, we're holding a Chill Weekend the last weekend of the Lobster Fest. If you cannot join us in person, then be sure to watch the One Caribbean Weather Channel. That's the second best way to enjoy the San Pedro Lobster Fest - on live TV. We'll be there...