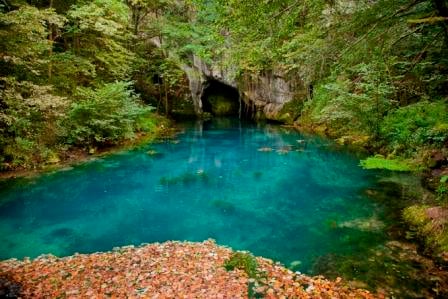 Belize is known for a lot of things, but many people associate it with stunning beaches, amazing culture and incredible cuisine. It is certainly true that some visitors head to Belize just for the chance to soak up the sunshine and kick back in the relaxing atmosphere, but not everything in the country is so laid-back. If you're searching for adventure, Belize definitely offers a wide range of options that will increase your adrenaline and create unforgettable memories.
Here are just a few of the top adventure activities that you can enjoy while visiting or living in Belize.
Tubing in Underground Caverns
For those in search of a memorable adventure, few things can compare to floating on an inner tube through a dark underground cavern filled with water and ancient Mayan ruins.
On a tour to Caves Branch National Park, your guide will provide you with everything you need to see archaeological ruins in a whole new way. The cave system has a history dating back for more than 2,000 years, and you can see it all while floating through the dark cavern rivers with a light strapped to your forehead.
River Kayaking in Toledo District
Through Belize, you can try sea kayaking from countless spots along the coast. While that can be an adventure of its own, those in search of a little more adrenaline might want to try kayaking in the Toledo District.
There, rivers run at a faster pace, and kayaking can be a serious challenge. Of course, there are also some wandering rivers where you can relax and focus on the scenery and the lush green surroundings of this frequently overlooked district in Belize.
Spot Wildlife in the Orange Walk District
Since the Orange Walk District is just an hour's drive from Belize City, it is a great spot for people to visit in order to get off the beaten path for a single day. While there are plenty of ways to get a fix of adrenaline in Orange Walk, a brilliant option is to go on a guided walk through the jungle in search of wildlife.
In the area surrounding the Mayan ruins of Lamanai, you can spot crocodiles in their natural habitat, see monkeys living among ancient ruins and admire countless bird species flying through the sky.
Try SNUBA
Most people are familiar with the idea of scuba diving, which lets you explore the underwater life at greater depths than snorkeling. If you love the idea of scuba, but you're not willing or able to take an extensive certification course, you can try SNUBA while in Belize.
You'll breathe through a regulator, but your air tank floats on the surface of the water and connects to your mouth through a thin tube. You can head 25 or 30 feet below the water's surface, opening up a whole new world.
Fly Through the Forest Canopy
Ziplining through the trees is a popular way to get a rush in Belize. Countless tours, some departing right from Ambergris Caye, provide everything you need to strap into a safe harness and soar through the lush forest canopy. You'll see plenty of wildlife and get the chance to experience the views from a whole new perspective.
Belize boasts gorgeous beaches and plenty of opportunities to unwind in a tropical setting, but it also offers a range of adventurous activities that will set your heart racing and help you have the time of your life.