San Pedro Town, Belize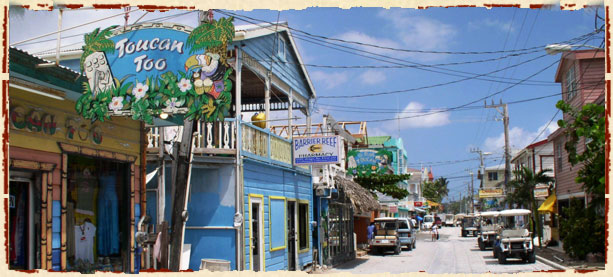 Visit Ambergris Caye Belize And Transition To "San Pedro Time"
San Pedro Town is the focal point of activities that takes place on Ambergris Caye. It is a popular tourist retreat for both Belizeans as well as seasoned travelers, thus generating the lion's share of Belize's tourism revenue. San Pedro's populace fluctuates during the year, with about 2/3rds of the island's 15,000 inhabitants located in or near the town. The populace of San Pedro Town includes a large Hispanic component, but both English and Spanish are spoken by San Pedranos.
Tourism has become the major industry in this once sleepy fishing village. While sport fishing is still a major attraction, and diving enthusiasts are ever present, general tourism has far surpassed these sources of income for the local economy.
A Colorful, Old-Fashioned Community
With colorfully painted houses sitting on sandy streets, nestled beside the clear turquoise sea, San Pedro is a quaint and colorful town that will remind you of an old-fashioned community from years gone by. The ubiquitous coconut palms sway in the constant trade winds that blow off of the Caribbean Sea, moderating the semi-tropical heat. Low rise hotels, guest houses and bungalow style resorts, from modest to magnificent, are nestled along the coast and throughout the town, but there is not a chain hotel to be found on the entire island.
This is a retreat that appeals to the independent-minded traveler or expat who prefers a "unique" and natural environment to the cookie cutter beach hotel resorts found in Cancun and other commercially developed resort towns. It is often noted that Belize is a country settled by pirates. Both Belizean citizens and those who migrate to Belize tend to support the "laissez fair" attitude that originated from the earliest settlers.
Get Here In A Day From North America
San Pedro is a bit off the beaten path, but can be reached within a day from most North American locations via Houston, Dallas, New Orleans and Miami. It requires a short local flight from Belize City to San Pedro Town (20 minutes) that offers a bird's eye view of the lagoon, local cayes, mangrove swamps and the reef.
Shorts-And-Sandals Required
The weather on this caye is typically very comfortable, with the average temperature averaging in the mid-80s and the balmy Caribbean breeze moderating temperatures most of the year, making it ideal weather for lounging around in shorts and sandals.
Activities & Adventures
Although San Pedro Town now offers most of the modern conveniences sought by first-world inhabitants, most visitors and residents move here to enjoy the natural beauty of the Caribbean Sea and barrier reef, the excellent snorkeling, diving and fishing, the active and open social life, and the numerous events and activities that take place in the town.
It also offers easy access to several Mayan ruin sites, as well as other diverse mainland activities and adventures that are accessible by a 20 minute flight or the local speedboats that regularly transport people from San Pedro Town to Belize City or Caye Caulker.
Live A Low-Key Lifestyle In San Pedro Town
This is not, however, the glitzy high-rise tourism of Cancun, with millions of package tourists hitting the beach. San Pedro has always favored slow controlled growth, with a simple rule that no building may be higher than a tall coco palm, or three stories in town. The town just recently began approving four story buildings within certain limits from town center.
Golf carts, bicycles and walking are the principal mode of transportation. San Pedranos typically enjoy walking the beach at all hours of day and night, ever appreciative of the reef's beauty and the role it plays protecting them from the Caribbean Sea.
The streets are home to local and visiting barefoot strollers, casually making their way through the shops and restaurants or just relaxing and chatting with the friendly locals and transplants who are often eager to share their personal story of how they came to make San Pedro Town their home.
Discover Community Living In The Town Of San Pedro
This is a very social and small town with a strong sense of community. It is easy to get to know people in San Pedro Town, from your neighbor, doctor or dentist to the local politicians. With so many local festivals and events, there is ample opportunity to mingle. The residents of this town love to socialize and the locals are friendly and helpful.
And, there is a spirit of helping one's neighbor that is best represented by the many volunteer organizations that play an important role within the community. Many expats choose to join one of the non-profits, both to contribute to the community, but also as a great way to get to know their neighbors.